Year 4
Welcome to Primary 4. There are 27 children in our class, 14 girls and 13 boys. Our teacher is Mrs Conaghan and our classroom assistants are Mrs Mc Naught and Mrs McCallion.
We are settling well into Primary 4 and we are learning how to become independent learners.
Primary 4 is a very important year as we will be making our First Communion on 19th May 2018.
We have PE on a Tuesday morning at 9:00 am. It is important to be on time on Tuesday and to wear our PE gear to school. Our PE gear is navy tracksuit bottoms and a white polo shirt. We will be changing into our school uniform after PE, so we must remember that too!
ICT will be on Wednesday and Fridays.
After the recent floods in our world, we will be looking at the topic of Save Our World in WAU. We will be examining climate change and the effects of Global Warming on our environment. We will also be learning about different ways that we can help to save the environment.
If anyone has any information that could help our learning, or could arrange a trip to Iceland to see the Northern Lights, please don't hesitate to get in touch with our teacher. She'll be delighted to hear from you. 🤗😜
We look forward to keeping all our mammies and daddies up to date with our learning in Primary 4.
Class Photograph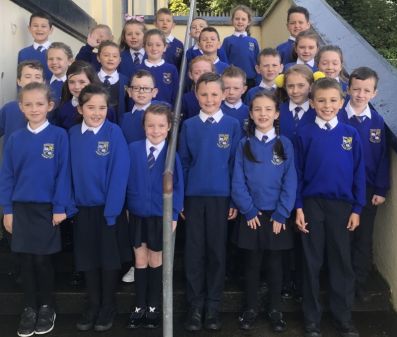 &nsbp;